LONG VOWEL WORD DETECTIVE MONKEYS
LONG VOWEL WORD DETECTIVE MONKEYS $3.99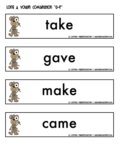 Free Long U Game Click Here!

ALINGS WITH NEW COMMON CORE!
Help students learn the different letter combinations that make up the long vowel sounds with this "Long Vowel Word Detective Monkey" search. Simply cut out the vowel cards and place them in various locations in your classroom or school. Students walk around being "detective monkeys" and write down the word underthe correct vowel combination heading on their student answer sheet. There are 3-4 words for each long vowel combination.
This activity is a fun way to teach those all so tricky long vowel patterns!